Tanning Options
There are several options for obtaining that perfect tan.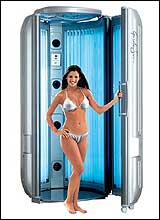 Our preference would be to go somewhere very warm like the Caribbean for three weeks!
The second option is to use a sun bed and we have one of the best - the Guardasun 7000 from Helionova, one of the worlds best sun bed manufacturer.
The third option is to use an instant tanning cream and we use both St Tropez and Fake Bake. They are both highly rated in the press and each have their own numerous celebrity followers.
But the best option is an Air Brushed Spray Tan which results in a glorious, even, streak free, bronze colour that looks natural and lasts for up to ten days!