High Power Sunbed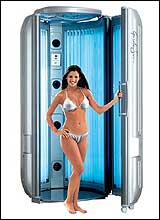 As many sun worshippers have a preference for upright tanning, instead of the reclined position we now have the NEW GardaSun 7000 from Helionova which features a spacious cabin that permits free movement, enabling a seamless tan to be aquired on virtually every part of the body.
Due to the application of 42 x 160 Watt Sunfit VRX reflector lamps, tanning time is reduced to 5 or 10 minutes per session and features an electronic timer and body cooler controls for your safety and comfort.
We recommend the use of our tan enhancers to keep your skin moisturised and to enhance the tan.