What is Botox?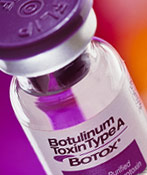 Botox is a purified toxin (Botulinum type A) injection that is used to treat unwanted facial lines and wrinkles.
It has been used in cosmetic correction for the last ten years and for other muscular problems for over 40 years.
It is known as the non surgical facelift or lunchtime wrinkle remover.
1.6 million people in the US alone had Botox treatments in 2001.
The success is due to the fact that it is a safe non surgical treatment that creates a fresher, younger and more relaxed appearance.
How does it work?
The Botulimum toxin reversibly relaxes the muscles under the skin. Facial lines formed by the pull of underlying muscles will then diminish or disappear.
What are Botox Uses?
Facial Line softening of the upper half of face: forehead furrowing, eye lines (crows feet), frown lines between the eyes, scars. Preventing excessive perspiration.
Who is suitable for Botox?
Anyone who is not pregnant, breast feeding, taking antibiotics or suffering from severe neuromuscular disorders.
Are the injections painful?
Not really, most people only experience a mild temporary discomfort. There is a slight swelling immediately after which settles within a few hours and application of ice helps
When will I notice a difference?
It starts to work in about 5 days. The greatest effect is seen after about 2-3weeks.
How long will it last?
3-6 months depending on each individuals response. Repeat treatments have been shown to last longer.
What are the side effects?
Side effects only occur very occasionally and are temporary, as the effect of the Botox wears off. Rarely bruising, infection at the injection site, headaches, mild drooping of eyelid or eyebrow.
Will it 'freeze my face' and leave me expressionless ?
No, definitely not. It is injected into specific muscles around the upper face, therefore not affecting normal expressions.
Does it create a 'wind tunnel' look?
No. Again this is a common misconception. This look can however be a result of plastic surgery when facial skin has been tightened.
Though Botox is the third most common plastic surgery procedure worldwide and has been smoothing wrinkles for years, it hasn't had the U.S. Food and Drug Administration's approval to do so. That is, until now.
Recently, the FDA said it's OK for Botox to be used for one cosmetic procedure -- uncrinkling frown lines between the brows and that is exactly what we use it for.
If you have any queries or questions please do not hesitate to get in contact with us at info@mayflowerbeautyclinic.com